---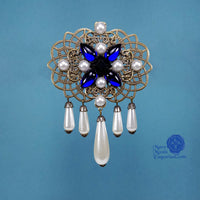 Contessa Fabiana Renaissance Style Sapphire Blue & Pearl Brooch Pin in Antique Bronze Filigree
Add some interest and a touch of movement to your bodice with this intricate sapphire and pearl brooch pin. It is the perfect accessory to catch the eye of your suitor while strolling through the gardens on a beautiful day.

A faceted square black onyx gem surrounded by teardrop blue sapphires and lustrous round pearls sit atop an intricate antique brass filigree base. Beautiful teardrop pearls dangle gracefully from below to add a layer of subdued opulence. Adorn your Renaissance or Elizabethan era costume with the elegant Fabiana pearl brooch pin and transform into a true countess for a day.

The Countess Fabiana pearl brooch pin can be affixed to a bodice and worn as intended, but this versatile handcrafted jewelry piece can also be worn in a number of other ways - your imagination is the only limit! Here are a few alternative ways to wear it: as a fabulous focal on a hat or cloak, on a simple cord or ribbon to wear as a pendant, combined with a long strand of pearls as bodice jewelry, or pinned into an elegantly designed hairstyle.

The Countess Fabiana Renaissance pin measures 2-1/2" wide and 3-1/2" tall and features a vertical (north/south) pin orientation. It affixes easily via a hook style closure that conceals the pin and prevents pricking.
This pearl brooch pin can easily transition from Renaissance to Victorian eras.
To see more Brooch Pins, click here.
Completion Schedule: 
This item is

 

Made to Order 
Your handcrafted

renaissance pearl brooch pin

will take some time to complete.  For this item to be ready for shipment, please see "Group 2" on the completion schedule. 

 

Click here for details. 
Specifications:
measures approximately 3.5" long and 2.5" wide
features a north south (vertical) pin orientation 
affixes easily via a hook style closure that conceals the pin and prevents pricking
made with acrylic cabochons, acrylic teardrop pearls, antique brass metals, hook closure pin back
wear it as a brooch pin, hat focal, or pinned into an elegant updo hair style 
Many Moons Emporium, providing handcrafted renaissance pearl brooch pins, accessories, and jewelry made just for you.
Size Chart and Measuring Instructions
Ladies Belts 
4 Easy steps for a proper fitting belt:
1. Put on your costume, or a garment with a similar amount of bulk.
2. Determine where you will wear your belt (at your waist or lower on your hips). Please keep in mind that most MME belts are made to be worn loosely over the hips. 
3. Measure that part of your body. If you wish to have the "v" shape in front, you will need to include that in your measurement.  If you do not have a measuring tape, you can download and print one from here: www.printablerulers.net/preview/Measuring_Tape-60_inches
4. Use the following size scale when ordering:
Measurement of
Many Moons Size
(not standard sizing)
20-25"
A / 2xSmall
25-30"
B / XSmall
30-35"
C / Small
35-40"
D / Medium
40-45"
E / Large
45-50"
F / XLarge
50-55"
G / 2xLarge
55-60"
H / 3xLarge
60-65"
J / 4xLarge
65-70"
K / 5xLarge

For example: if your measurement is 37", you would order a size D / Medium.  If your measurement is 40" you should order a size E / Large so that you have an adjustment option.
If you are still unsure about what size to order, please send us an email or contact us.  We will be glad to help.